Integrity is, quite simply, being trustworthy in our actions and character.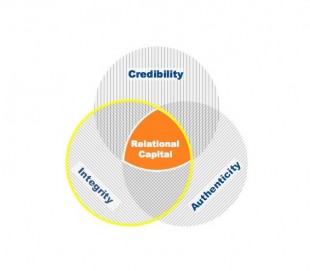 Integrity is doing the right thing when no one is watching, like leaving our business card on the windshield of a car we just bumped in the parking lot.
It is saying what we are going to do and then doing it. Integrity is the quality of having honest and truthful motivations for our actions. This translates directly into applying the principle of worthy intent in all of our interactions in the business world.
Everyone wants to believe they can be trusted and can trust others in life and business. Many clients gauge our integrity by the way we make our commitments and deliver on them. After we have established that we are credible, our clients will begin to ask us to make commitments to them in the form of contracting for goods, services, and solutions.
When we deliver what we promised, we display our integrity and reinforce the client's trust. In doing so, this opportunity further advances the business relationship and increases the distinctive value of our relational capital.
Integrity is also about expectations, making sure we set them appropriately and then consistently delivering on them.
The old phrase about commitments, "under promise and over deliver," actually contradicts the worthy intent that we should strive to bring into our business relationships.
BUSINESS EFFECTIVENESS TIP
Trust begins with commitments which are the promises we make in business. Don't make promises you can't keep during business discussions. Even if they are made casually, somewhere along the line you'll be held to your word. Failing to produce what you've promised will create atrophy in the relationship and close the door to any future opportunities.
It's simple, JUST KEEP YOUR PROMISES!