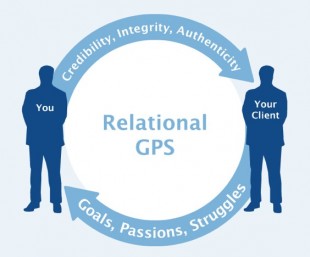 In Business Relationships That Last, I discuss how the secret to success in advancing a business relationship is through understanding a client's Relational GPS™ – their Goals, Passions, and Struggles.
And how do we follow the course of a client's GPS?
We ask questions. We understand what drives our clients by asking really good questions.
How do we "get good" at asking "good" questions? What can we do to sharpen our acumen?



Action Point
Try this exercise. It will help you sharpen your "asking good questions" skills.
Sit down with a young person, someone between 5-10 years old (a niece or nephew, son or daughter, granddaughter or grandson) and observe what he or she is doing. They might be playing with a favorite toy or reading a book, or maybe playing game.
Ask the child questions about whatever it is he or she is doing for the next five minutes. You'll see how challenging it gets to move beyond the initial question into second and third questions.
Remember, you're not offering a whole lot of ideas. You're more or less just asking questions to show the child that you are interested and to keep his or her curiosity in why you're interested, and to demonstrate that you are sincere, truly interested, and confident.
How far do you get?
Try this exercise. I guarantee you it will help you when you are trying to advance your adult relationships – all through the power of talking with a child. windows server .