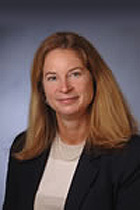 Susan Baker
Sue Baker has more than 20 years as a high performing executive leader and certified executive coach. Sue is a key faculty member and executive coach for the Relational Capital Group team and also serves as an executive coach for EMBA students. She recently co-founded a corporate professional women's leadership forum.
Her demonstrated strengths are in building and expanding technical organizations and include establishing cross-functional business processes among organizational business lines. Sue's range of experience includes dynamic high growth start-ups and large-company divisional operating management spanning all aspects of business operations, P & L responsibility, Mergers and Acquisitions, and corporate strategy development linked to business strategy. Her roles include Vice President of Software Development; Manager of Quality Services for the Computer Assurance Services Group at Coopers & Lybrand; Chief Operating Officer; and Director of Quality and Data Management Services for McKesson.
Sue holds a B.S. in Biology from Lycoming College, has the designation of Certified Quality Manager from the American Society for Quality and has been a guest speaker for the Cabrini College Master's Program in Organizational Leadership around Gender in Leadership. She has served on the panel of experts around women in leadership at Rosemont College's Women's Leadership Forum, and has been featured as one of three women leaders in the book, "Blazing Your Own Trail, A Guide for Women On The Way Up", by Joan Walsh (Amazon/Wool Street Publishing).