Relationship Assessments
Metrics Are the First Step to Improved Performance
We all know it's true. In today's business climate, almost everything can be commoditized, digitized, or outsourced…except the business relationships that power results!
In fact, in a recent survey of VP level and above executives, 89% reported that their personal and professional relationships have a very significant impact on their ability to deliver business results each year.
Yet paradoxically with all the CRM, employee engagement, Net Promoter and other satisfaction data collection efforts businesses undertake, they still get blind sided by significant internal and external relationship issues that substantially hinder their performance.

The Relational Quotient™ Advantage
Thanks to recent advances in cognitive psychology and social network analysis, it's now possible to measure the strength and results impact of business relationships at the individual, group and enterprise level. Our proprietary Relational Quotient™ or RQ™ Assessment tools leverage these advances to deliver metrics and insights that reveal which relationships are driving results, as well as where opportunities for improvement remain.
These innovative assessments can be deployed on a stand alone basis, or as an additional module within existing customer loyalty, market research or performance assessment systems. For instance Client Relationship Assessments provide deep, actionable insights that lead to improved customer retention, penetration and acquisition.  Similarly, Talent Relationship Assessments provide remarkable visibility on the dynamics of internal relationships that lead to increased cross-functional collaboration, productivity and leadership development.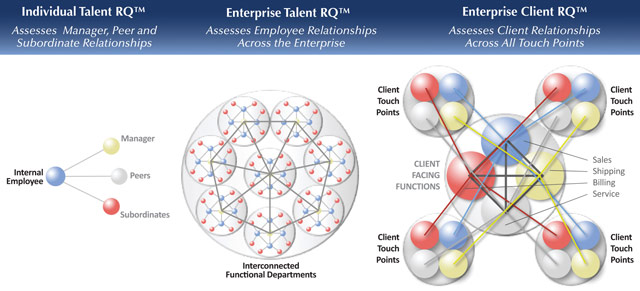 When tracked on a periodic basis, Relationship Assessment measures provide a progress report on action plan impact and a roadmap to further plan refinements. In particular, Enterprise Relationship Assessment data and insights can be applied to enhance organization performance in the following areas:
Human Resources
Cross-functional Collaboration
Leadership Development
Performance Assessment
Employee Engagement
Succession Planning
Acquisition Culture Integration
Candidate Evaluations
Sales/Business Development
Customer Retention
Sales Planning & Forecasting
Account Penetration & Mgmt
New Account Acquisition
CRM System Effectiveness
Client Needs Assessment
Sales Support Effectiveness
Finance/Operations/IT
Productivity Improvement
Efficiency Cost Reductions
Organization Effectiveness
Change Management
Major Initiative Implementation
New Leader Onboarding
Acquisition Due Diligence