Dr. Robert Reich on Relational Capital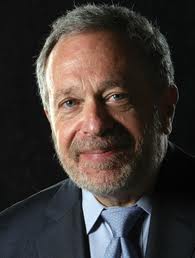 In today's business environment, there's no such thing as customer loyalty. Customers can and will abandon a commercial relationship the moment they're confident they can get a better deal elsewhere. Three trends account for this.
First, modern technology makes it easy for customers to find better deals. Information about alternative products and services is readily available on the Internet. Comparative data are abundant.
Second, technology makes it easier than ever for a customer to leave one producer and move to another. Abandonment can (and often does) occur with the click of a mouse.
Third, customers have more choices than ever. Technology and globalization have increased the number of competitors in every industry, and reduced barriers entry. Any potential competitor can gain access to the same sources of capital at almost the same rate, the same technologies, the same customer lists.
Yet it's still the case that the cost to businesses of attracting a new customer is much higher than the cost of keeping one. This is why one of the most important business assets is coming to be relational capital. By relational capital I mean the cumulative trust, experience, and knowledge that forms the core of the relationship between businesses and their customers. Relational Capital keeps customers from abandoning a commercial relationship.

Relational Capital grows when:
Sales professionals learn more and more about individual customers. As they interact with customers, they glean additional information about them — personal characteristics, demographic characteristics, geography, tastes, desires, likes and dislikes.
Marketing professionals mine data bases to discover more and more about particular customers. Their data complements the personal data gleaned by the sales professionals.
Designers interact with people in sales and marketing, thereby creating products and services ever-better tailored to what sales and marketing professionals are learning.
Engineers equip sales people with tools to better assess and respond to customer needs — software allowing customers to design products or solutions, components that can be fitted together in unique ways, new materials or services that can be customized, higher-quality speciality products.
Customers develop trusting relationships with particular sales people who provide them with such services. Customers come to rely on these individuals for insight and advice about how their needs can best be met in the future.
Products and services that are standardized commodities are most vulnerable to customer abandonment. With ever-greater ease, customers can find, execute, and choose better deals. As a result, profits on such commodities inevitably are declining.
By contrast, products and services whose value is largely a function of the Relational Capital invested in them are least vulnerable to customer abandonment. Profits on relational-intensive products and services are growing.
To take a personal example, I no longer use a travel agent to book airplane reservations. I can do the booking quicker over the Internet. I can also find the best deal in airfares at the click of a computer mouse. Increasingly, however, I use a travel agent to advise me on where my family should take vacations, given our ages and interests. I also use the agent to devise a business itinerary that best meets my particular business needs. My travel agent has invested in learning about me and my family and business needs, and in means of helping me better define those needs.
The commodity aspects of my travel — the reservation service and the air travel itself — are becoming relatively less valuable to me and less profitable to the businesses that provide them. But my relationship with the agent who advises me is becoming relatively more valuable to me, and relatively more profitable to the agent.
Similarly with financial services. I no longer use a broker to buy or sell stocks; that's done more easily over the Internet. Yet an increasing portion of the value of the financial services I receive turns on the relationship I've developed with my financial advisor, whose advice is tailored to my and my families' needs. Relational Capital is coming to be the most important asset of any business. Yet Relational Capital doesn't appear on balance sheets. It's hard to measure. The return on Relational Capital is even harder to measure.
Despite these measurement difficulties, smart businesses are investing in Relational Capital. They're inventing better means by which sales professionals can learn about their customers' needs, more efficient means of mining customer data bases, more innovative ways of customizing products and services to precise customer specifications, more creative means of equipping customers with design tools to customize products and services, and better ways of developing and sustaining trusting relationships between customers and individual sales professionals.
Smart businesses also recognize that one of the largest hidden costs of employee turnover is the loss of Relational Capital. When sales, marketing, design, or engineering professionals leave — voluntarily or involuntarily — the Relational Capital they've accumulated often disappears with them. Data and operating procedures may remain but the cumulative learning on which they're based vanishes. Trusting relationships between particular sales professionals and particular customers evaporate. As a result, the business is less valuable.
One of the greatest challenges to business in future years will be to shift more investment from physical capital (plant, equipment) and intellectual capital (patents and copyrights) to Relational Capital. As a first step, such a shift requires recognizing the true value of Relational Capital to the modern business enterprise.
Robert B. Reich has served in three national administrations, most recently as secretary of labor under President Bill Clinton. He also served on President-Elect Obama's transition advisory board. He has written twelve books, including The Work of Nations, which has been translated into 22 languages; the best-sellers The Future of Success and Locked in the Cabinet; and his most recent book, Supercapitalism. Mr. Reich is co-founding editor of The American Prospect magazine. His commentaries can be heard weekly on public radio's "Marketplace." In 2003, Reich was awarded the prestigious Vaclav Havel Vision Foundation Prize, by the former Czech president, for his pioneering work in economic and social thought. In 2008, Time Magazine named him one of the ten most successful cabinet secretaries of the century. He received his B.A. from Dartmouth College, his M.A. from Oxford University where he was a Rhodes Scholar, and his J.D. from Yale Law School.

© Robert B. Reich 2010  Reprinted with permission.